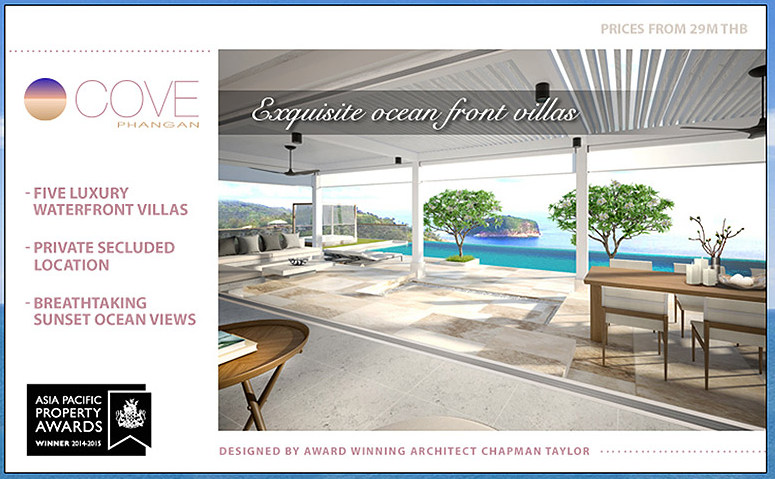 The Cove Phangan
Five beautiful private luxury villas set right on the shoreline in an area of outstanding natural beauty, looking west to the breath-taking sunset ocean views across Haad Thong Lang Bay and out beyond Koh Ma, and with rich jungle rain forest rising up behind.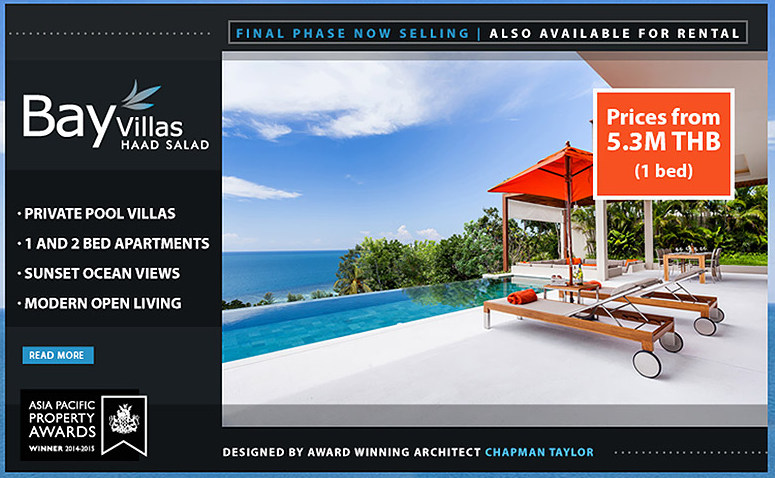 Bay Villas Haad Salad
We are the place where Award-winning design meets Island vibes. Bay Villa is your home away from home. On a lush and preserved tropical island, enjoy the comfort and amenities of a luxury property, entirely maintained by our dedicated team.
Office: +66 (0) 819709219
Villa Rentals: +66 (0) 32089219
​
FEATURED PROPERTIES
3 BEDROOM FAMILY FRIENDLY TROPICAL POOL VILLA
Haad Salad
Overlooking the beautiful bay of Haad Salad and its powdery white sand, this 3 bedroom villa is nestled in the hillside in one of Koh Phangan's most spectacular locations and surrounded by coconut palms and lush tropical gardens. The gardens house a stunning sala and large swimming pool which is wonderful to watch the sunset over the bay from. The pool has a separate shallow area for children.
3 BEDROOM SEA VIEW VILLA - BAY VILLA
เกาะพะงัน, 84280
This modern tropical style villa is designed for the ultimate indoor/outdoor living experience. It features a stunning sunken covered outdoor lounge, and outdoor dining, and infinity edge swimming pool, which is enhanced by the magnificent natural setting.
2 Results returned.
Per Page
Contact us now to secure your new tropical island property!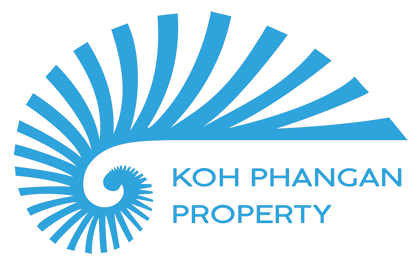 Services Offered By Phangan Island Property, Villas & Apartments
Phangan Island Property provides high quality residential apartments, villas and commercial property real estate services on the Island of Koh Phangan.
Leading the way in Koh Phangan Villas, land and commercial property sales. We offer a full range of luxury holiday villa rentals and management services. With unparalleled access to some of the finest properties available across the island.
Phangan Island property is focused on property real estate sales, turnkey developments, apartments and holiday villa rental services. With around 10 years experience on Koh Phangan, we are blessed with a wealth of knowledge. Enabling us to guide our clients into making the best investment and lifestyle decisions to suit their needs.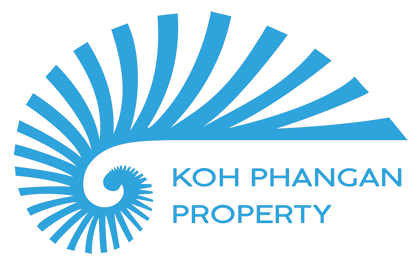 In the past Koh Phangan has been overshadowed by its bigger sister Island of Koh Samui. However this is changing as Ko Phangan evolves with its own identity, while still keeping that "real island" charm that the Thai islands are best known for.
Phangan Island offers some of Thailand best beaches with crystal clear waters and endless coconut groves. The Island of Phangan is growing, but at a sustainable controlled pace and without the influx of mass tourism.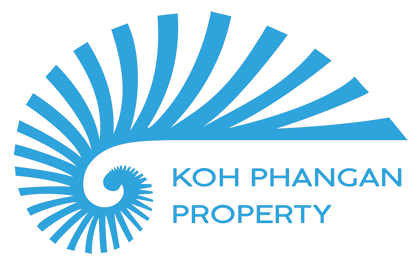 The island of Koh Phangan is located in the Gulf of Thailand in the Surat Thani province of Southern Thailand covered in green unspoilt jungle land.
It is the fifth largest island in Thailand with a surface area of 191 km2. The nearest islands to Koh Phangan are Koh Samui to the south (about 20k away) and Koh Tao to the North (about 65k away).
Once only famous for the full moon parties, the island has in recent years transformed itself from a backpacker haven with lower grade real estate to a premier luxury holiday destination with boutique holiday villas and high quality real estate developments. With its unspoilt and often deserted beaches and tropical climate Koh Phangan is a popular holiday destination. Unlike neighbouring Koh Samui which is busy and highly developed, Koh Phangan has retained its laid back and unspoilt charm, despite its growth in popularity.
Many of those who came as backpackers some 20 years ago are now returning with their own families. The beaches along the west coast with their shallow waters and long stretches of white sands make it a perfect holiday destination for families.
The arrival of luxury five star resorts in Thong Nai pan and a number of high end resorts on the south coast have meant that Koh Phangan is now a popular choice for luxury holidays and honeymooners.
That said, Koh Phangan caters for all tastes and budgets and there are still many budget options available. Along the beaches, there are still many basic bungalows and small villas available to rent for very cheap rates. There are also many mid-range hotels and resort options available. Or even unspoilt land parcels to buy and develop.
Many people who come on holiday to Koh Phangan return the following year or even choose to make Koh Phangan their second holiday home. We are seeing in a real increase in returning guests looking to rent our luxury holiday villas. There are a scattering of high end villas on the island and a significant growth in luxury real estate on the island.
Indeed, many visitors who come to the land of Koh Phangan on holiday do not return. The relaxed and laid back feel of the island coupled with the affordable lifestyle make it a very attractive island to live on and many people are choosing to make the land of Koh Phangan their permanent home.
There are a plenty of investment opportunities and purchasers can choose from whole host of options available from a plot of land with no infrastructure to completed luxury villas already constructed or off plan. Given that prices are still considerably lower than neighbouring Samui it means there are still exciting opportunities which may account for the growth in Koh Phangan's real estate sector and villa development in recent years.
Also, getting to Koh Phangan will become easier than ever with the island's first airport currently under construction, which comes in over unspoilt jungle land.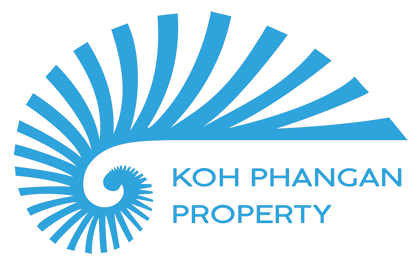 Koh Phangan Property are excited to be bringing the first luxury apartments of its kind to Koh Phangan. Although there are number of high end resorts and luxury villas on the island there are currently no luxury apartments, condos or units in Koh Phangan.
This will be an exciting opportunity for the discerning traveller to own their own piece of paradise in this highly exclusive development. Perched on a hill overlooking the bay of Haad Salad, the apartments have been designed to maximise the stunning location. All units have breath-taking ocean and sunset views. There is a choice of 1 bedroom or 2 bedroom apartment or penthouse apartment. All the units have been furnished to a very high standard with fully fitted kitchens, tasteful bedrooms which are all en-suite, air conditioning in the bedrooms and outdoor lounge area.
The apartments share a beautiful infinity pool which overlooks the bay of Haad Salad. There are numerous daybeds and sun-loungers around the pool which are perfect for sipping a cocktail while watching the sunset.
The apartments are only a short walk down a private road to the sandy beach of Haad Salad where there are numerous beach bars and restaurants.
The units are part of a fully managed estate with secure private entrance, concrete road access, wifi, landscaped gardens, and cleaning team. Owners may choose to live in the apartment all year round or let their unit out as required. With their premier location in Koh Phangan, the apartments offer an extremely attractive investment opportunity.
For the holidaymaker, the apartments offer the perfect escape for those who want more space than a hotel room has to offer, but still want all the luxury that a high end resort has to offer and do not want to compromise on style. Bay villa apartments offer just this- with luxurious and comfortable holiday accommodation in paradise.