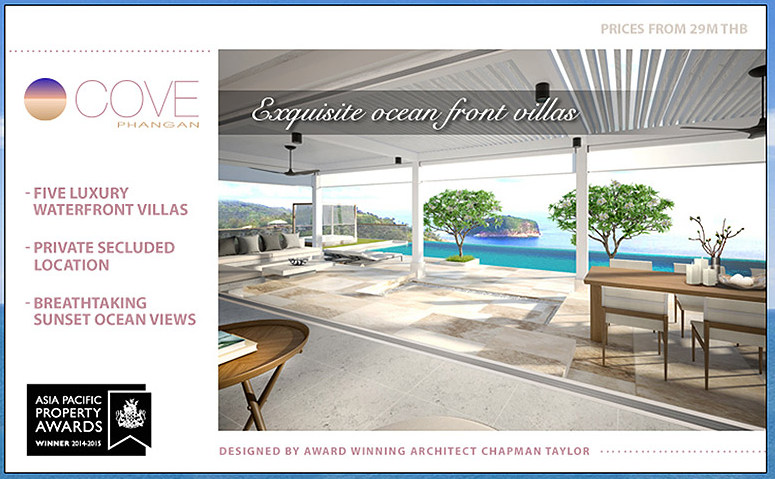 The Cove Phangan
Five beautiful private luxury villas set right on the shoreline in an area of outstanding natural beauty, looking west to the breath-taking sunset ocean views across Haad Thong Lang Bay and out beyond Koh Ma, and with rich jungle rain forest rising up behind.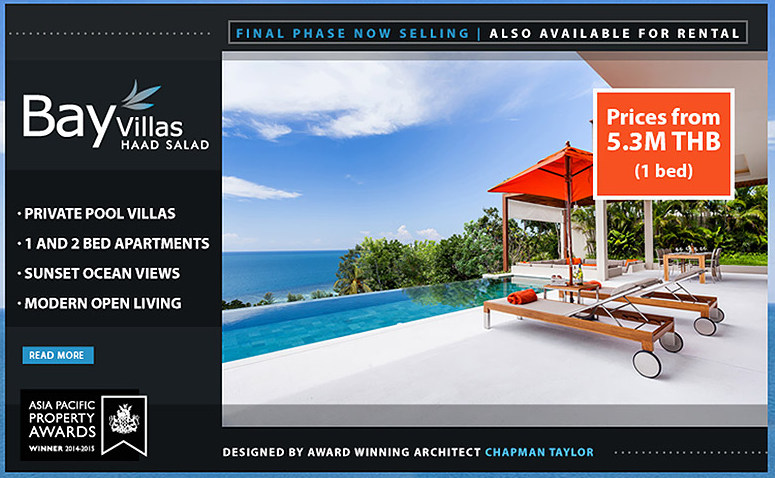 Bay Villas Haad Salad
We are the place where Award-winning design meets Island vibes. Bay Villa is your home away from home. On a lush and preserved tropical island, enjoy the comfort and amenities of a luxury property, entirely maintained by our dedicated team.
Office: +66 (0) 819709219
Villa Rentals: +66 (0) 32089219

BROWSE ALL PROPERTIES
SEA VIEW 5 BEDROOM POOL VILLA
In a stunning location, perched on the hillside and only an eight minute walk away from the the sandy beach of Haad Salad. Located on the western side of the island, it is the perfect location to enjoy a fine meal with a sunset after a relaxing day on the beach towel or the massage chair! This five bedroom villa has breathtaking views and a contemporary design.
3 BEDROOM FAMILY FRIENDLY TROPICAL POOL VILLA
Haad Salad
Overlooking the beautiful bay of Haad Salad and its powdery white sand, this 3 bedroom villa is nestled in the hillside in one of Koh Phangan's most spectacular locations and surrounded by coconut palms and lush tropical gardens. The gardens house a stunning sala and large swimming pool which is wonderful to watch the sunset over the bay from. The pool has a separate shallow area for children.
2 Results returned.
Per Page